Discussion of the Best News in the World, the Gospel of Jesus, and related topics
Category Archives: Evil Hunting
Joe was made a slave to sex early in his life.
Many of our big questions start with a "Why…?". This is often not just an intellectual question, but a personal question, seeking a personal answer. But to whom is the question "Why…?" addressed? If matter is all there is, there is no point in asking the question. But if God exists, he has questions to answer.
When Christopher Hitchens was asked in an interview with CNN in 2011 whether he was tempted to ask "Why me?", he responded that it was a "silly question"."Everyone's got to go sometime", he replied. If there is no God to ask, then that is a consistent response.
But why do so many people ask the question? Could it be that it is an objection to the way the world is; a recognition that it is not the way it's meant to be. But if that's the case, how do people think that the world should be? Read more of this post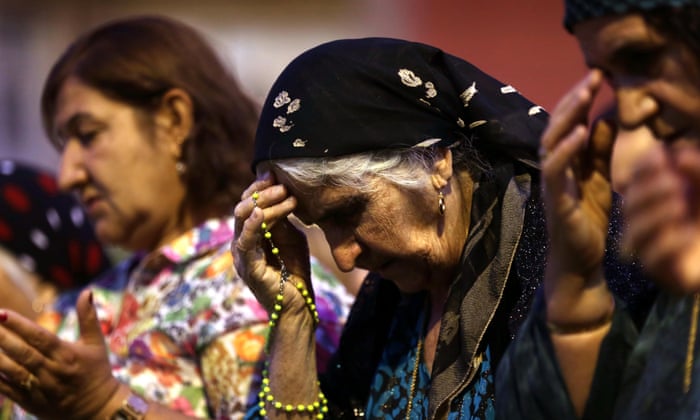 Christians who fled violence in the northern Iraqi city of Mosul attend a mass in Irbil, capital of the Kurdish autonomous region in northern Iraq. 'More than a decade of war has seen the Christian people of Iraq driven from their homes.' Photograph: Safin Hamed/AFP/Getty
Christians, Yazidis and other minority groups have been crushed by the heavy armor of ISIS and other rebel groups in the Middle East.  What happened to peaceably living together in this world.  For those minorities in the Middle East, peace is a distant memory. Read more of this post
We all must push the dark of evil that surrounds us.  Don't let it engulf you!  Push with all your strength and God's strength who is your strength.
LGBTQI->MF
Pretty soon the LGBT… "community" will end up being the whole of humanity as variations continue to be added to the collection.   So, I came up with this one for them as this is clearly where we are all headed.
LGBTQI …NA<–>MF
No "MF" does not stand for some lewd phrase used in pop vernacular.
Read…
Genesis 1
in the Word of God and you realize who we all are.    There is nothing new under the sun here.   God made them …
If you look back, you will see reality.