Discussion of the Best News in the World, the Gospel of Jesus, and related topics
Category Archives: Compassion
Scorsese on Silence, the Movie & Faith
As Jesus is presented at Temple per the custom and Law, a righteous and devout man,
Simeon, takes the baby in his arms and declares the purpose of the child to all present.
29 "Lord, now you are letting your servant depart in peace,
    according to your word;
30 for my eyes have seen your salvation
31     that you have prepared in the presence of all peoples,
32 a light for revelation to the Gentiles,
    and for glory to your people Israel." Read more of this post
This is not flashy but it is good!  Listen to Gary help you unfold God's story.
Amy Butler learned a great lesson in a difficult situation. Our presence speaks volumes to the hurting. Will you stop and think–what do you have to offer? Could it be that being and being in a person's presence, is the greatest gift, the greatest support you have to offer?
Listen to Amy's story. Read more of this post
His bottom lip trembled as I leaned in with my stethoscope. Although his eyes shimmered with a thin sheen of tears, he did not recoil. As had his toddler sister, he waited, straight, silent, and obedient, and he studied me. I crouched to his level, and we connected for a heartbeat or two. I listened to the cadence of his breath; he searched my face. Read more of this post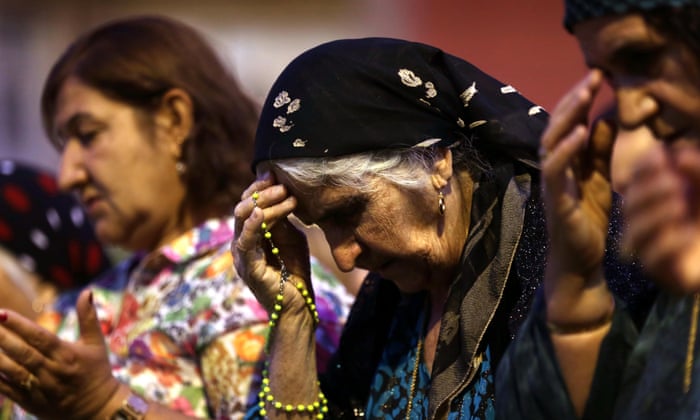 Christians who fled violence in the northern Iraqi city of Mosul attend a mass in Irbil, capital of the Kurdish autonomous region in northern Iraq. 'More than a decade of war has seen the Christian people of Iraq driven from their homes.' Photograph: Safin Hamed/AFP/Getty
Christians, Yazidis and other minority groups have been crushed by the heavy armor of ISIS and other rebel groups in the Middle East.  What happened to peaceably living together in this world.  For those minorities in the Middle East, peace is a distant memory. Read more of this post

Beautiful Story of a blind man given love!