Discussion of the Best News in the World, the Gospel of Jesus, and related topics
Category Archives: Persecution
From the greatest sermon ever taught at any time, any place in the whole earth for all time.
As phrased by Peterson in the Message:
1-2 When Jesus saw his ministry drawing huge crowds, he climbed a hillside. Those who were apprenticed to him, the committed, climbed with him. Arriving at a quiet place, he sat down and taught his climbing companions. This is what he said:
I take from this that we apprentices need special training, support and affirmation.  Yes, we need all this for what lies ahead of us.
3 "You're blessed when you're at the end of your rope. With less of you there is more of God and his rule.
"At the end of your rope!" How many times have I experienced that.  What God has taught me when in the midst IS that this is NOT the end of the rope or road. Because God is with me there in every situation I ALWAYS have a next step and as He guides I take it and beauty unfolds.  "Beauty" can be deliverance from a horrible or traumatic situation.   
4 "You're blessed when you feel you've lost what is most dear to you. Only then can you be embraced by the One most dear to you.
What comfort! When I have lost the most precious things to me, I can be comforted because I am assured that through the pain He will become more dear, more precious than in the past.
5 "You're blessed when you're content with just who you are—no more, no less. That's the moment you find yourselves proud owners of everything that can't be bought.
Radical!  I am accepted just like I am.  I need no more because I have Him and with that I can be content.  What can't be bought is knowing Him and having the acceptance I have because I know Him.
6 "You're blessed when you've worked up a good appetite for God. He's food and drink in the best meal you'll ever eat.
Contrarian thinking!  Jesus is provocative!  We hunger for Him and for His righteousness and blessings to show up in our lives and in the lives of those around us.  I pursue Him and I pursue others that they may know Him deeper and fuller.
7 "You're blessed when you care. At the moment of being 'care-full,' you find yourselves cared for.
I am blessed to care.  I am blessed to not be so focused on self.  I am blessed when I seek the good of others in my city.  I am blessed and fulfilled when those in my environment are blessed and fulfilled.  
8 "You're blessed when you get your inside world—your mind and heart—put right. Then you can see God in the outside world.
Being right with God is bliss and blessing!  Jesus and the Holy Spirit is in a continual renewal process of making me more new every day.   Every day can be an adventure when we know, serve and follow Him.  
I see God in HIS world!
9 "You're blessed when you can show people how to cooperate instead of compete or fight. That's when you discover who you really are, and your place in God's family.
In THIS community, pride is out the window(or headed out the window) and love dominates.  I am taught by the Master that I am loved incessantly by Him and because I am I can love others and help them love others too.  What a lovely place to be!
10 "You're blessed when your commitment to God provokes persecution. The persecution drives you even deeper into God's kingdom.
Aaaah! A secret that some of my brothers and sisters know far better than I.  I can't say that persecution will never come to me or you. I know other brothers and sisters who have had it so bad (much worse than me) but, in the process, experienced great joy and comfort beyond what they ever imagined.
11-12 "Not only that—count yourselves blessed every time people put you down or throw you out or speak lies about you to discredit me. What it means is that the truth is too close for comfort and they are uncomfortable. You can be glad when that happens—give a cheer, even!—for though they don't like it, I do! And all heaven applauds. And know that you are in good company. My prophets and witnesses have always gotten into this kind of trouble.
The 'I do!' is all that matters here!  It really does not matter what happens to us here. No really!!!  It does not matter if we know Him.  He will be there with us and give us the comfort and grace to bear all!  Heaven applauds and heaven cheers and welcomes us.  We have such examples in Hebrews 11.  How could we ever fear or fret? 
From his foundation web site:
Elie Wiesel was born in 1928 in Sighet, Transylvania, which is now part of Romania. He was fifteen years old when he and his family were deported by the Nazis to Auschwitz. His mother and younger sister perished, his two older sisters survived. Elie and his father were later transported to Buchenwald, where his father died shortly before the camp was liberated in April 1945.

After the war, Elie Wiesel studied in Paris and later became a journalist. During an interview with the distinguished French writer, Francois Mauriac, he was persuaded to write about his experiences in the death camps. The result was his internationally acclaimed memoir, Night (La Nuit), which has since been translated into more than thirty languages
Although the global genocide of Christians is news filled with horror stories, there are also some very exciting positive stories. Olie is a shop owner in Pakistan. He squeezes out a living selling various wares including Bibles.
One day a man entered his shop, glancing around nervously. Olie immediately felt uneasy. The man approached Olie, and opened his coat revealing a bomb strapped to his chest.
"I am here to kill you because you sell Bibles in your shop!"
Olie stood in silence for a few seconds, the hair on his neck standing up. Olie pointed to a picture frame on the wall next to the man. The frame contained the words from the love chapter in 1 Corinthians 13.
The bomber stood and read the whole chapter. He glanced back at Olie, then immediately left the shop and ran down the street. Olie let out a long deep breath. He had no idea why he pointed to the frame containing the verses, but he gave God all the glory.
A few weeks later, the same man walks into Olie's shop! Olie's gut knots up as the man walks toward him. "I have experienced this Jesus who is in your Bible. I need to have my own Bible. Can I get one from you, please," said the man in a quiet voice.
Olie gave him a Bible and Olie also kept in contact with this new believer. This is one of the stories you will never hear in the news media.
For example, we hear much regarding the refugee problems exploding in Germany and the rest of Europe. Riots, gang fights and rapes fill these stories.
From IMDb:  4 Plot Summaries
All her life Englishwoman Gladys Aylward knew that China was the place where she belonged. Not qualified to be sent there as a missionary, Gladys works as a domestic to earn the money to send herself to a poor, remote village. There she eventually lives a full and happy life: running the inn, acting as "foot inspector", advising the local Mandarin and even winning the heart of mixed race Captain Lin Nan. But Gladys discovers her real destiny when the country is invaded by Japan and the Chinese children need her to save their lives. Based on a true story.
– Written by A.L.Beneteau <albl@inforamp.net>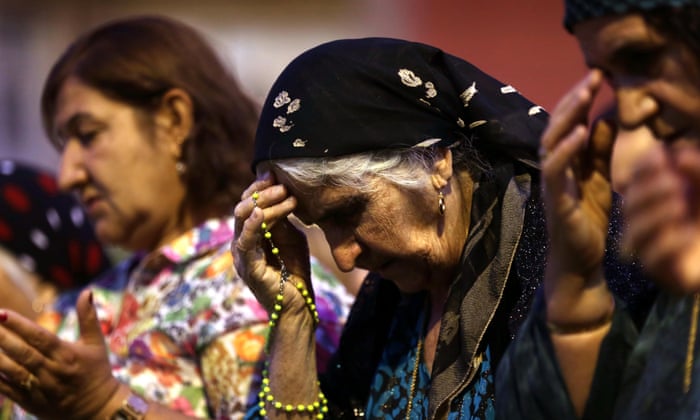 Christians who fled violence in the northern Iraqi city of Mosul attend a mass in Irbil, capital of the Kurdish autonomous region in northern Iraq. 'More than a decade of war has seen the Christian people of Iraq driven from their homes.' Photograph: Safin Hamed/AFP/Getty
Christians, Yazidis and other minority groups have been crushed by the heavy armor of ISIS and other rebel groups in the Middle East.  What happened to peaceably living together in this world.  For those minorities in the Middle East, peace is a distant memory. Read more of this post
Christians are slaughtered, 1 every 5 minutes in the Middle East.
Mohammad jihadi followers destroying the ancient Mar Elian monastery in Qaryatain, Syria.
What transpires at this hearing is unbelievable to me. But it happened.
How grandchildren honor their late grandfather and their God!
Related articles
…by the Iraqi surprise?
Sudden collapses are all surprises when they occur, yet in retrospect seem inevitable results of iniquity. They are surprises only because those in power take selfies and cover up their selfishness, for a time.
– World Magazine
How is it that the American solution to years of Shite persecution Read more of this post
In this video, Pastor Richard Kannwischer of St. Andrews Presbyterian Church,
tells the story of a family in India who lost their lives because
of their faith in Jesus Christ.
Accompanied by music performed by Jadon Lavik, this compelling
story of how a families sacrifice to
follow Jesus influenced their entire community. There is a true
story of a small village in India. And in this village there was
this family that came to a saving faith in Jesus Christ as Savior
Lord.
This agitated the village so much and everybody became so
upset that an angry mob gathered and shoved them into the public
square. The village chief confronted them and he said to the man,
"If you and your family will not recant your faith, you all will
surely die!" The man didn't know what to say or what to do.
The only thing that came to mind for him were the words of a song that he
had composed when he had first surrendered his life to God. And so
he began to sing,
"I have decided to follow Jesus. No turning back. No turning back."