Discussion of the Best News in the World, the Gospel of Jesus, and related topics
Category Archives: Persecution
This is a painful day for many Americans.  I grieve with those for their lost loved ones.  Let us not forget what happened just 15 years ago.  Some evil element attacked freedom and the march against our freedoms continue inside the USA and from the outside.
Watch this video with me.  I hope Mr Pipes is correct.  Regardless, we keep our vigilance against tyranny in support of freedom for all of humanity.
"We will show the Armenians and the Christians who we are… We have been ordered not to leave any Armenians in the area." — Islamic rebels, Aleppo, Syria.
Thousands of Christians are fleeing Eritrea due to extreme persecution. A report describes Eritrea as "one of the world's fastest emptying nations" and the "North Korea of Africa." The majority of the 40,000 who fled to Italy last year are Christians.
"The government of Iran continues to engage in systematic, ongoing, and egregious violations of religious freedom, including prolonged detention, torture, and executions based primarily or entirely upon the religion of the accused." — Report by the United States Commission on International Religious Freedom.
A new study claims that as many as 40,000 Christians — including Muslims who wish to convert to Christianity — are being attacked and harassed by Muslims in migrant homes. According to the report, "Now in European asylum homes they are finding more and more that they are in as much danger from radical Muslims in Europe as they were in their home countries."
More here.
From the greatest sermon ever taught at any time, any place in the whole earth for all time.
As phrased by Peterson in the Message:
1-2 When Jesus saw his ministry drawing huge crowds, he climbed a hillside. Those who were apprenticed to him, the committed, climbed with him. Arriving at a quiet place, he sat down and taught his climbing companions. This is what he said:
I take from this that we apprentices need special training, support and affirmation.  Yes, we need all this for what lies ahead of us.
3 "You're blessed when you're at the end of your rope. With less of you there is more of God and his rule.
"At the end of your rope!" How many times have I experienced that.  What God has taught me when in the midst IS that this is NOT the end of the rope or road. Because God is with me there in every situation I ALWAYS have a next step and as He guides I take it and beauty unfolds.  "Beauty" can be deliverance from a horrible or traumatic situation.    Read more of this post
From his foundation web site:
Elie Wiesel was born in 1928 in Sighet, Transylvania, which is now part of Romania. He was fifteen years old when he and his family were deported by the Nazis to Auschwitz. His mother and younger sister perished, his two older sisters survived. Elie and his father were later transported to Buchenwald, where his father died shortly before the camp was liberated in April 1945.

After the war, Elie Wiesel studied in Paris and later became a journalist. During an interview with the distinguished French writer, Francois Mauriac, he was persuaded to write about his experiences in the death camps. The result was his internationally acclaimed memoir, Night (La Nuit), which has since been translated into more than thirty languages
Although the global genocide of Christians is news filled with horror stories, there are also some very exciting positive stories. Olie is a shop owner in Pakistan. He squeezes out a living selling various wares including Bibles.
One day a man entered his shop, glancing around nervously. Olie immediately felt uneasy. The man approached Olie, and opened his coat revealing a bomb strapped to his chest.
"I am here to kill you because you sell Bibles in your shop!"
Olie stood in silence for a few seconds, the hair on his neck standing up. Olie pointed to a picture frame on the wall next to the man. The frame contained the words from the love chapter in 1 Corinthians 13.
The bomber stood and read the whole chapter. He glanced back at Olie, then immediately left the shop and ran down the street. Olie let out a long deep breath. He had no idea why he pointed to the frame containing the verses, but he gave God all the glory.
A few weeks later, the same man walks into Olie's shop! Olie's gut knots up as the man walks toward him. "I have experienced this Jesus who is in your Bible. I need to have my own Bible. Can I get one from you, please," said the man in a quiet voice.
Olie gave him a Bible and Olie also kept in contact with this new believer. This is one of the stories you will never hear in the news media.
For example, we hear much regarding the refugee problems exploding in Germany and the rest of Europe. Riots, gang fights and rapes fill these stories.
From IMDb:  4 Plot Summaries
All her life Englishwoman Gladys Aylward knew that China was the place where she belonged. Not qualified to be sent there as a missionary, Gladys works as a domestic to earn the money to send herself to a poor, remote village. There she eventually lives a full and happy life: running the inn, acting as "foot inspector", advising the local Mandarin and even winning the heart of mixed race Captain Lin Nan. But Gladys discovers her real destiny when the country is invaded by Japan and the Chinese children need her to save their lives. Based on a true story.
– Written by A.L.Beneteau <albl@inforamp.net>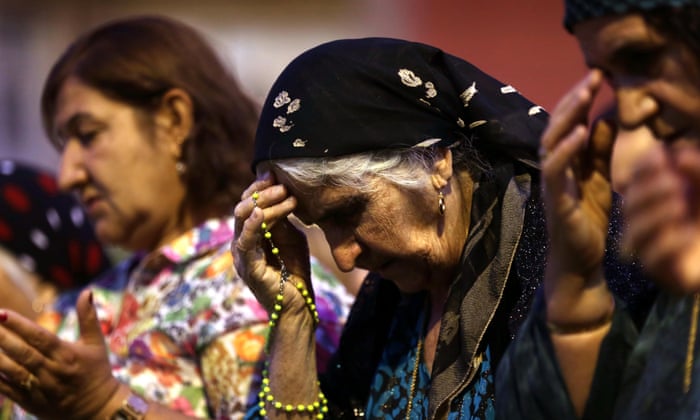 Christians who fled violence in the northern Iraqi city of Mosul attend a mass in Irbil, capital of the Kurdish autonomous region in northern Iraq. 'More than a decade of war has seen the Christian people of Iraq driven from their homes.' Photograph: Safin Hamed/AFP/Getty
Christians, Yazidis and other minority groups have been crushed by the heavy armor of ISIS and other rebel groups in the Middle East.  What happened to peaceably living together in this world.  For those minorities in the Middle East, peace is a distant memory. Read more of this post
Christians are slaughtered, 1 every 5 minutes in the Middle East.
Mohammad jihadi followers destroying the ancient Mar Elian monastery in Qaryatain, Syria.
What transpires at this hearing is unbelievable to me. But it happened.